How Shaboo CT Cleaning came to be: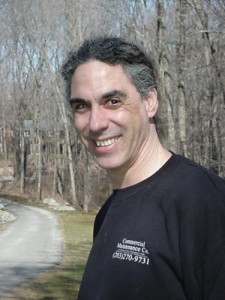 When I was growing up, my father started a business cleaning office buildings. He would bring me to work at night to help him. We would clean bathrooms, dump garbage, empty ashtrays, sweep floors, and maintain the vinyl floors by stripping and refinishing when needed . This is how I got my early introduction into floor maintenance and the cleaning industry.
We would also maintain small businesses that had vinyl flooring, deli's, beauty salons, pizza restaurants, etc.
At age 17, I was working for a cleaning company in Danbury, cleaning office buildings, cleaning windows, cleaning carpets etc. He would sub contract all the floors that need to be striped and refinishing to me. I would borrow my father's equipment. Then I would find a helper and we would go strip the floors. When the Danbury mall was being built he would sub contract the construction cleaning accounts to me. There were many contractors that needed construction clean up. I would provide the people and manage the operation.
I started getting my own floor customer by knocking on businesses doors. We would service convenient stores, hardware stores, small super markets, Just to name a few. Over time, I would get customers from word of mouth.
The name Commercial Maintenance Company came from the fact that I did Commercial Floors.
I was also getting window cleaning accounts due to the experience I had from working with my father in cleaning new house construction.
I was getting discouraged one day due to the amount of company's and residents that had carpeting. So, I decided to buy a carpet extraction machine. That is how I got into the carpet cleaning business. I educated myself in the art of cleaning carpets. I learned that high heat and great suction makes the difference in cleaning carpets.
I got into the power washing business due to one of my customers needing her house cleaned. I rented a machine the first time. I had many people that were asking me to clean their houses. My father had a friend, that had a commercial power washer on a trailer, and he wanted to sell it. So of course I bought it. The rest is history. It took a little while to educate myself in the vast areas of power washing. Many people don't realize how many things you can clean with a power washer.
I have had customers over the years ask me if I would clean there office, churches etc. So I started doing general cleaning.
I am sure I don't have to tell you how I got into the gutter cleaning business. Well I will tell you a little bit, it is funny. When I started power washing I didn't know what I was doing. It was very comical to watch me in the early years. The first house I cleaned, all the leaves and debris from the gutters start falling on my clean house. That's when I realized I had to clean the gutters first.
I have spent my life in the cleaning industry trying to help people in need of my services.